About the Book
The lifeblood of the village of Ivy Hill is its coaching inn, The Bell. When the innkeeper dies suddenly, his genteel wife, Jane Bell, becomes the reluctant landlady. Jane has no idea how to manage a business. But with the town's livelihood at stake and a large loan due, she must quickly find a way to save the inn.
Despite their strained relationship, Jane turns to her resentful mother-in-law, Thora, for help. Formerly mistress of The Bell, Thora is struggling to overcome her losses and find purpose for the future. As she works with Jane, two men from her past vie for her attention, but Thora has promised herself never to marry again. Will one of them convince her to embrace a second chance at love?
As pressure mounts from the bank, Jane employs new methods, and puzzles over the intentions of several men who seem to have a vested interest in the place, including a mysterious newcomer with secret plans of his own. With the help of friends old and new, can Jane restore life to the inn, and to her empty heart as well?
---
For Reading Groups: Discussion Questions are included in the back of the book to facilitate book club conversations.
---
Click Here to visit the new web home of TALES FROM IVY HILL to learn more about the series, including a village map, character list, photos, videos, a giveaway and more!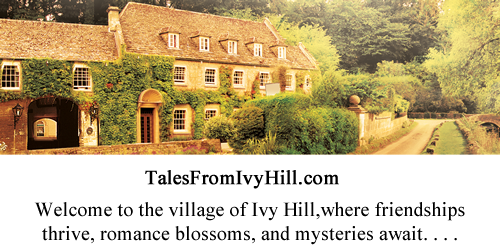 ---
Reviews:
"Readers will rejoice that this is only the beginning of her new Tales from Ivy Hill series."—Publishers Weekly
"A heartwarming new series set in the Regency era that delivers everything fans of gentle historical-romance novels could ever want, including a beautifully realized English village setting, a memorable cast of characters, and charming hints of love for more than one of the residents of Ivy Hill."—Booklist
Other Books in "Tales from Ivy Hill"