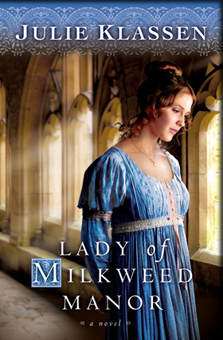 Christy Award finalist
Julie Klassen's debut novel. An engaging story of a once-proper lady who finds herself in a most unexpected situation. Popular with book clubs.
Order Now!
About the Book
Even a proper vicar's daughter can make a mistake…and now Charlotte Lamb must pay a high price for her fall. To avoid the prying eyes of all who know her, she hides herself away in London's forbidding "Milkweed Manor," a place of mystery and lore, of old secrets and new birth.
But once there, she comes face to face with a suitor from her past–a man who now hides secrets of his own. Both are determined, with God's help, to protect those they love. But neither can imagine the depth of sacrifice that will be required.
Sprinkled with fascinating details about the lives of women in Regency England, Lady of Milkweed Manor is a moving romantic drama about the redemption of past failings and the beauty of sacrificial love.
---
For Reading Groups: Discussion Questions are included in the back of the book to facilitate book club conversations. Caution—minor spoilers!
---
Reviews:
"Lady of Milkweed Manor captured me from the first page and still hasn't let go.  Always intrigued by little-known parts of history, the mysterious and shame-filled world of lying-in hospitals, foundling wards, and wet nurses hooked me from the start. Julie Klassen pens a look deep into sacrificial love and complicated lives, bringing to life the heartache and hope of one young girl who had made one huge mistake.  The faith message is understated but ever present, much like it is in writings from the era in which this novel is set. Lady of Milkweed Manor is not to be missed by historical fiction lovers….  This is one novel you're not going to want to put down until you've read the last involving page."  — Roseanna White, Christian Review of Books
In this inspirational historical romance debut novel set in 19th-century England, a young pregnant woman is forced to make difficult choices. Twenty-year-old Charlotte Lamb is the daughter of a heartless English vicar, as we discover when she becomes pregnant and he throws her out of her childhood home. Vulnerable and unprotected, she is forced to a lodging place for unwed mothers. Soon, Lamb must make decisions involving true love and sacrifice, providing many powerful turning points throughout the story. …A bonus is the milkweed poetry, lore and symbolism knitted into the narrative. Both readers of faith fiction and general readers of historical romance should enjoy this lovely first offering from Klassen.  — Publishers Weekly