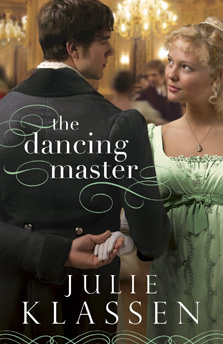 Julia Midwinter is determined to learn the truth about the handsome new dancing master, and the truth about her own past as well. A heartwarming village story of love and second chances.
Order Now!
About the Book
Finding himself the man of the family, London dancing master Alec Valcourt moves his mother and sister to remote Devonshire, hoping to start over. But he is stunned to learn the village matriarch has prohibited all dancing, for reasons buried deep in her past.
Alec finds an unlikely ally in the matriarch's daughter. Though he's initially wary of Julie Midwinter's reckless flirtation, he comes to realize her bold exterior disguises a vulnerable soul—and hidden sorrows of her own.
Julia is quickly attracted to the handsome dancing master—a man her mother would never approve of—but she cannot imagine why Mr. Valcourt would leave London, or why he evades questions about his past. With Alec's help, can Julia uncover old secrets and restore life to her somber village . . . and to her mother's tattered heart?
Filled with mystery and romance, The Dancing Master brings to life the intriguing profession of those who taught essential social graces for ladies and gentlemen hoping to make a "good match" in Regency England.
---
For Reading Groups: Discussion Questions are included in the back of the book to facilitate book club conversations.
---
Reviews:
"Multiple Christy Award-winning Klassen once again demonstrates her gift for creating richly layered characters and skillfully integrating a multitude of fascinating historical facts into a spirited story that will have wide appeal to both inspirational fans as well as readers who enjoy sweet historical romances."
—John Charles, Booklist, about The Dancing Master
"A fantastic read. Every time I was sure I had figured out the twisty-turny plot, the story would take another turn to prove me wrong. I loved it!"
—Author Michelle Griep, about The Dancing Master