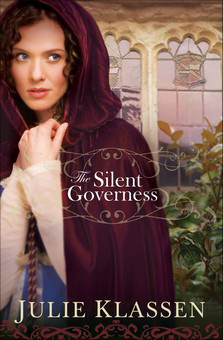 Christy Award Winner
The intriguing story of a reluctant governess in a manor house where secrets abound. Winner of The Christy Award, and Finalist in the Romance Writers of America RITA Awards.
Order Now!
About the Book

Olivia Keene is fleeing her own secret. She never intended to overhear his.
But now that she has, what is Lord Bradley to do with her? He cannot let her go, for were the truth to get out, he would lose everything–his reputation, his inheritance, his very home.
He gives Miss Keene little choice but to accept a post at Brightwell Court, where he can make certain she does not spread what she heard. Keeping an eye on the young woman as she cares for the children, he finds himself drawn to her, even as he struggles against the growing attraction. The clever Miss Keene is definitely hiding something.
Moving, mysterious and romantic, The Silent Governess takes readers inside the intriguing life of a nineteenth-century governess in an English manor house where all is not as it appears.
---
For Reading Groups: Discussion Questions are included in the back of the book to facilitate book club conversations.
---
Reviews:
"This is an inspired and well-told story of mystery, intrigue and the politics of upstairs and downstairs folk in 19th-century England. The author takes the reader back in time effortlessly. If you enjoy Jane Austen or the Regency period, you will love this book." — Terri Dukes, Romantic Times Book Reviews about The Silent Governess
"Klassen expertly infuses her Regency-set inspirational tale with a gothic atmosphere, resulting in a sweetly intriguing romance worthy of Victoria Holt." — John Charles, Booklist, about The Silent Governess