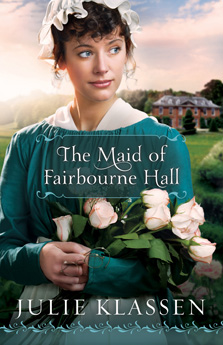 Christy Award Winner
In the upstairs/downstairs tradition of Downton Abbey, a privileged young lady disguises herself as a housemaid in the home of a former suitor.
Order Now!
About the Book

Margaret Macy flees London, disguised as a housemaid, to avoid marriage to a dishonorable man. If she can remain unwed until her next birthday, she will receive an inheritance, and with it, sweet independence. But she never planned on actually working as a servant. And certainly not at Fairbourne Hall—the home of two former suitors. As she fumbles through the first real work of her life, Margaret struggles to keep her identity secret. When a trap is set to force her from hiding, will love or danger find her first?
---
For Reading Groups: Discussion Questions are included in the back of the book to facilitate book club conversations.
---
Reviews:
"Christy winner Klassen mines another gem of a story from the rich Regency vein. In a tale of disguise and transformation with echoes of The Prince and the Pauper…Margaret's character and judgment are enriched as she works for a living. The upstairs-downstairs dynamic of the upper and serving classes puts meat on the story's bones. The reliable Klassen has produced a well-realized genre winner in which Christian elements are subtle and historically appropriate." — Publishers Weekly, about The Maid of Fairbourne Hall
"Romance, mystery and secrets…. Klassen always brings freshness to her stories. Some Regency-era novels have stuffy, hands-off characters, but her characters are warm, witty and have style…" — Patsy Glans, Romantic Times, 4.5 stars for The Maid of Fairbourne Hall