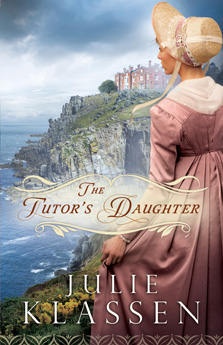 Christian Retailing's BEST Award Winner
Filled with page-turning suspense, this book takes you to the windswept Cornwall coast where studious Emma Smallwood finds herself living in a mysterious manor house with four brothers and many secrets.
Order Now!
About the Book
Emma Smallwood, determined to help her widowed father when his boarding school fails, accompanies him to the cliff-top manor of a baronet and his four sons. But soon after they arrive and begin teaching the two younger boys, mysterious things begin to happen. Who does Emma hear playing the pianoforte at night, only to find the music room empty? And who begins sneaking into her bedchamber, leaving behind strange mementoes?
The baronet's older sons, Phillip and Henry Weston, wrestle with problems—and secrets—of their own. They both remember the studious Miss Smallwood from their days at her father's academy. But now one of them finds himself unexpectedly drawn to her….
When suspicious acts escalate, can Emma figure out which brother to blame, and which to trust with her heart?
Filled with page-turning suspense, The Tutor's Daughter takes readers to the windswept Cornwall coast—a place infamous for shipwrecks and superstitions—where danger lurks, faith is tested, and romance awaits.
---
For Reading Groups: Discussion Questions are included in the back of the book to facilitate book club conversations.
---
Reviews:
"This novel's beyond a read, it's an experience. As a retired teacher I found this historical tutor tale a wealth of educational interest. There's a secret or more at Ebbington Manor—things appear—others disappear. Such a mystery, with conflicting suspects that Cornwall's best constable would be hard pressed to solve. Action turns sinister when times become desperate. Then as waves smash agains Cornwall's rocky shore The Tutor's Daughter becomes a thriller."— Alan Daugherty, columnist, "Angelkeep Journals"
"While I love all of Julie's books, it seems that her books just keep getting better and better with more complex plots and unexpected surprises. The Tutor's Daughter not only kept me up late at night, but I'd often sneak a page or two throughout the day so that I could continue reading the book. Overall, this is an exceptional book and one that I would highly recommend to anyone that loves Jane Austen, Charlotte Bronte, Christian fiction, Historical fiction, loves a great storyline, loves to read…..you get the point…buy the book!" — Booksintheburbs