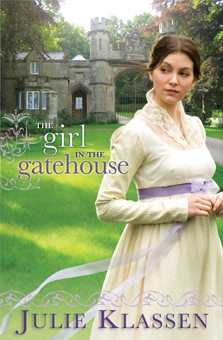 Winner of the Christy Award
An ambitious captain, a beguiling outcast, and a mysterious gatehouse...
Order Now!
About the Book

Mariah Aubrey lives in seclusion in an abandoned gatehouse on a distant relative's estate. There, she supports herself and her loyal servant by writing novels in secret, at a time when novel writing was considered improper and unladylike. When wealthy and ambitious Captain Bryant leases the estate, he is intrigued by the beautiful girl in the gatehouse. Will he risk his plans—and his heart—for a woman shadowed by scandal?
---
For Reading Groups: Discussion Questions are included in the back of the book to facilitate book club conversations.
---
Reviews:
"This book has scandal, mystery, secrets and a budding romance. The characters are written in such detail the reader will forget they are fictional! Klassen has outdone herself with this latest novel. Her writing is comparable to Jane Austen's. She writes with passion and readers will not be able to put this book down." — Romantic Times gave The Girl in the Gatehouse 4.5 stars and named it a "Top Pick"
" Christy and RITA nominee Klassen creates a wonderful cast of engaging characters while neatly stirring in a generous dash of mystery and danger into the plot of her latest, charmingly romantic inspirational romance." —  Booklist about The Girl in the Gatehouse
"While Klassen keeps many plot-plates spinning simultaneously, the action is easy to follow and surprises pop as the story ends. …The author has done her historical homework. Complexity of plot and characterization make this a cut above standard-issue historical romance." — Publishers Weekly about The Girl in the Gatehouse