Saturday, April 7, 2018
Class: How to write Christian historical fiction @ 10:00 am
(Julie Klassen & Michelle Griep)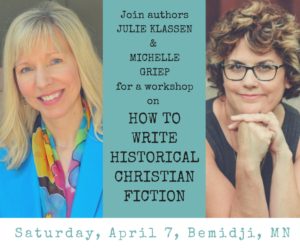 Bemidji Public Library: Free but preregistration required; Call (218) 751-3963
509 America Ave. N.W.
Bemidji, MN 56601
Learn the keys to writing compelling historical Christian fiction from popular authors Julie Klassen and Michelle Griep. Topics will include: creating satisfying plots, bringing characters to life, weaving in spiritual themes, research, editing, how to get published, and more. To sign up, contact the library at (218) 751-3963.
Saturday, April 7, 2018
Author talks with Julie Klassen & Michelle Griep @ 2:00 pm
Bemidji Public Library: open, no registration required
509 America Ave. N.W.
Bemidji, MN 56601
Contact:  (218) 751-3963
Saturday, April 14, 2018
Panel Discussion with authors Julie Klassen, Jody Hedlund, Becky Wade, Karen Witemeyer, Katie Ganshert, and Courtney Walsh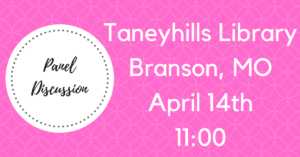 Taneyhills Community Library @ 11:00 am
200 S 4th St, Branson, MO 65616
Contact: (417) 334-1418
Sunday, April 22, 2018
Talk: Maximizing the Author-Editor Relationship @ 6:00 pm
(Julie Klassen with editor, Karen Schurrer)
American Christian Fiction Writers MN Chapter: Guests welcome
LifePoint church 2220 Edgerton St., Maplewood MN
Contact: www.acfwminnesotanice.com