I'm participating in the FREE, ONLINE Southwest Florida Reading Festival along with many other authors. Here's my schedule. I'd love to see some friendly faces!
(Note: No need to download special software or create an account to participate. Simply visit ReadFest.org from your computer or mobile device to watch the author presentations and attend the live author meet and greets.)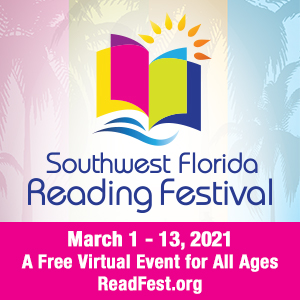 Tuesday, March 9, 2021 6:00 pm CT (7:00 EST)
Inspirational Fiction Panel with Rachel Hauck, Julie Klassen and Kim Vogel Sawyer: A moderated discussion about inspirational fiction with three favorite authors.
Tuesday, March 9, 2021 6:50 pm CT (7:50 EST)
LIVE Inspirational Authors Meet & Greet: Join us for a casual time of Q & A and conversation!
Saturday, March 13, 2021 12 noon CT (1:00 EST)
Author "Booth" Chat (one hour): Just me, sitting online, hoping someone will pop in and say hello or ask me a question. 😊